Win the ongoing battle for retaining top talent
Build a Strong Workplace Culture With Mirro
Request a demo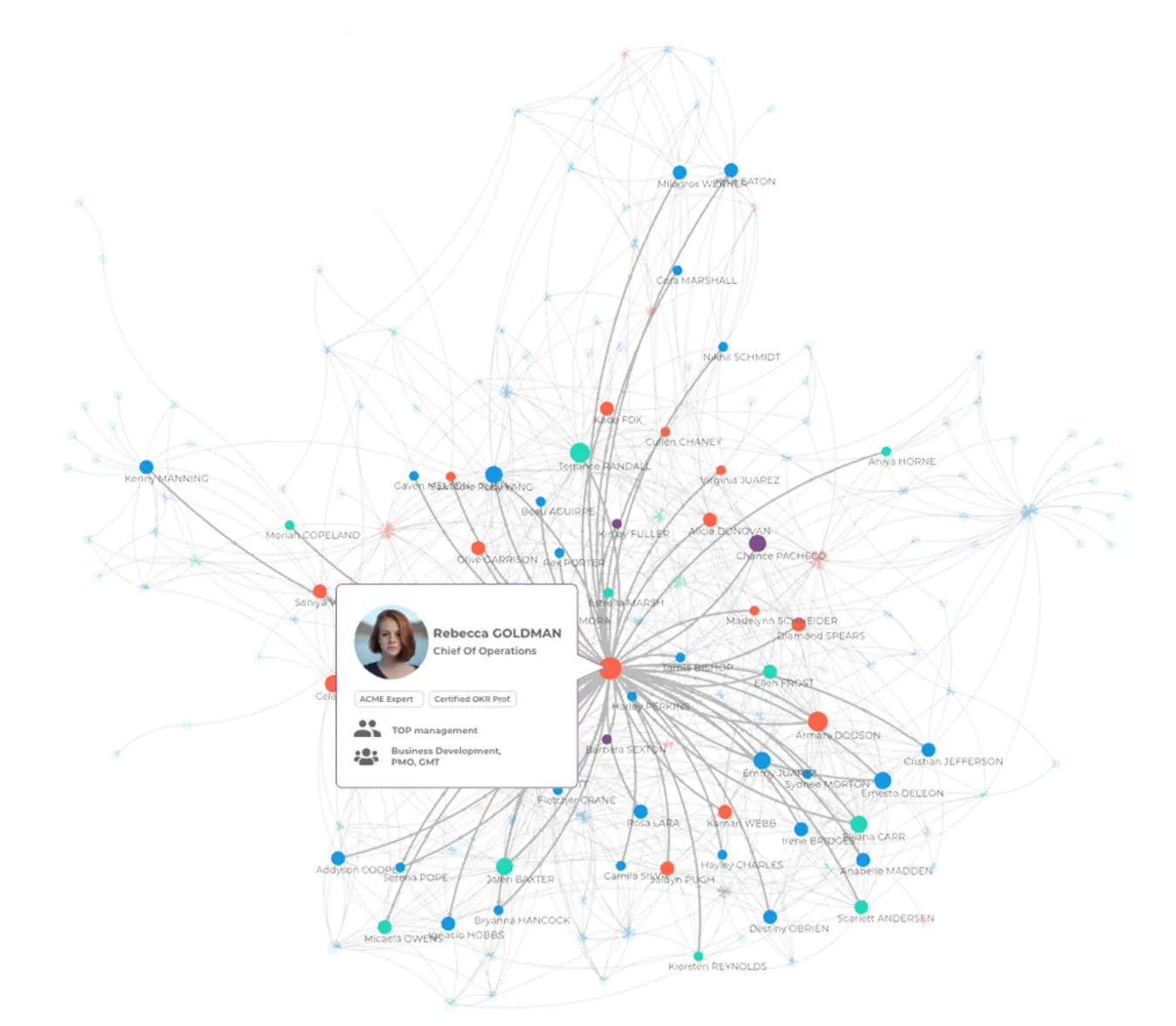 Snapshot from Mirro Culture Insights feature
Mirro helps your organization:
Attract and retain top talent;

Create alignment with shared values and goals;

Grow employee engagement;

Rocket performance, productivity & effectiveness
Forward-thinking leaders understand a strong company culture functions as a differentiator in the marketplace.
Our customers report 50% better retention than market average
Innovative organizations look at retaining top talent beyond traditional incentives. Instead, they look for ways to improve employee experience, engagement, growth opportunities, and wellbeing.
of C-suite executives and board members believe culture is more important to performance than the organization's strategy or operating model.
Net profit increase could be achieved over a five-year period by a strong organizational culture.
Trusted by leading companies
Mirro, a top notch
culture-as-a-service solution, improves your company culture
Increase employee engagement

Mirro creates social touchpoints to encourage interaction regardless of where people choose to work from. It gives meaning to every digital interaction.
Acknowledge and appreciate your team

This is the biggest driver of employee experience. Mirro helps you shine a light on the achievements of your people and show them how valued they are.
Make timely feedback valuable

Strong company culture is feedback-driven. Ongoing feedback brings alive what's happening in the workplace and gives people a chance to speak up.

Make sure everyone is treated equally, regardless of where they work from. Your remote people should not feel like they're on the outside looking in.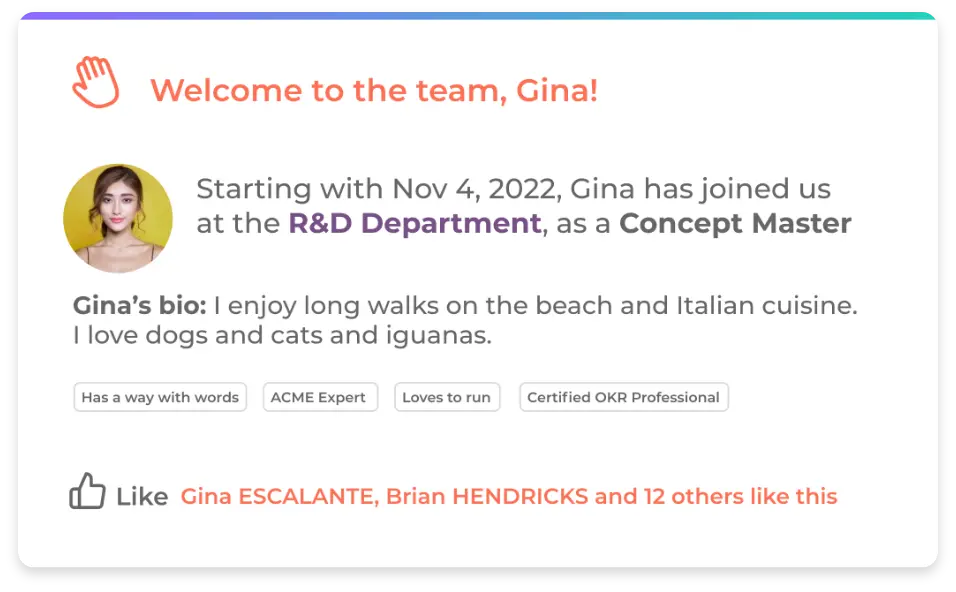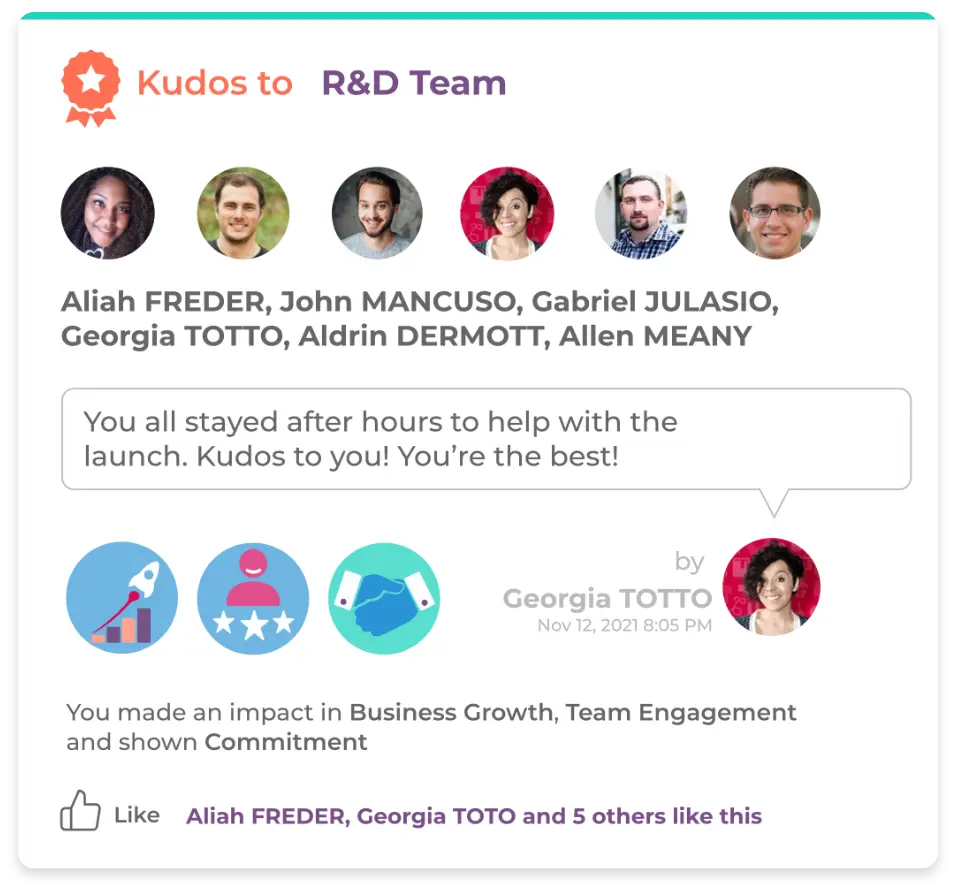 Get Mirro, the performance management platform for outstanding results
Save massive amounts of time with powerful HR admin features;





Effortlessly adopt a performance management framework;
Set OKRs and track progress;





Make business decisions based on extensive people analytics.
"Loved the social network graph, as we can see clearly who is engaged socially or not and we can have some internal initiatives to engage them more."
Penelope Barton
VP, People and Remote
"I love that we have clear, actionable intel at a glance: it's easy to see what values need to be acknowledged more and we can take immediate action."
Katerina Andritsou
People Manager